Dr.Seven-branded face masks are now extensively used in various overseas markets as a dependable, front-line defence of human life, amidst the worsening COVID-19 pandemic, which has hit the entire world.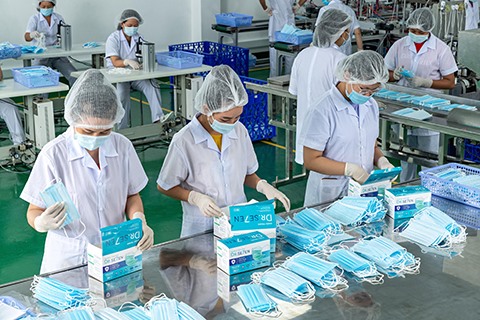 Dr. Seven face masks are packaged, ready for the next export batch to the US.
The last carton boxes of face masks have just been loaded on a truck standing outside Dr. Seven's production plant in HCM City. In the next hours, they will be transported to a busy seaport or airport en route to overseas markets. Today, as many as 3 million Dr. Seven-branded face masks, will be shipped to the US to provide physicians and health care providers with an essential front-line defence against COVID-19 infection hazards.
Tran Ha, Dr. Seven's Chief Executive, says this is just the first batch of a bulk order from the US which amounts to tens of millions of face masks. The American partner, a loyal customer, has planned to import other lines of PPE products from Dr. Seven, including medical gowns, medical protective gears, and face shields, to name a few. With 90 million finished items made per month at maximum production capacity, the management is highly confident Dr. Seven will be able to fill all export orders.
According to statistics from the General Department of Vietnam Customs, Vietnamese enterprises exported up to 557 million face masks in the first half of 2020. Countries including the US, European nations, and Japan are being securely shielded from viral infection thanks to made-in-Viet Nam face coverings such as Dr.Seven-branded masks.
Face masks have become a widely coveted commodity since the outbreak of COVID-19, with the World Health Organization repeatedly urging countries to accelerate their production of face masks and PPE products in the battle against the global pandemic. Not long after the WHO's appeal, Viet Nam has become the world's fourth-largest exporter of face masks.
Viet Nam has recently gained more trust and trade momentum in the global marketplace in terms of face mask supplies, partly thanks to a series of business scandals marrying the reputation of her rival, China. Disqualified products made in this world-leading exporter of face masks have been returned by US and European markets, which brought a stand-still to their sales outside of the mainland market.
Dr. Seven surgical masks are widely used by American doctors because of their impressive 99 per cent antiviral protection effect.
Dr. Seven has successfully managed to penetrate even the toughest locations on Earth for market entry including the US and European countries by being transparent about their quality standards and relevant certifications.
Dr. Seven is now widely recognised for manufacturing high-quality medical equipment products, all of which meet domestic quality standards, carry a CE mark (i.e. a quality label indicating that a specific item of commodity qualifies all relevant safety, health care, and sustainability requirements imposed by EU markets), and are certified by means of FDA approval (the FDA is an American entity responsible for regulating all food and drug-related products sold in the US to ensure safety for consumers).  Medical equipment products made by Dr. Seven pass all quality control tests at reputed laboratories such as Tuv Sud.
"Dr. Seven face masks are vastly sought after and utilised extensively in numerous American hospitals as reliable protective gear against high infection risks," said one senior representative from Dr. Seven. "The demand seems insatiable because we are offering 4-ply meltblown medical masks qualifying level-3 (highest level) ASTM certification standards. More specifically, this line of product is characterised by a nanosilver layer featuring 99 per cent antibacterial effect and 98 per cent filtration result which guarantees ultimate safety and ultra-protection for the sake of wearers who are exposed to high-risk environments such as operating theatres."
Face mask and medical equipment exports play a significant role as part of Dr. Seven's long-term and sustainable business proposition.
Vietnamese face mask exporters no longer view a budget price as a tempting, unique selling point when it comes to nurturing long-term business relationships with international clients, especially demanding ones from the Western world who typically place their trust in reliability and a proven production process.
"At Dr. Seven we make it the highest priority to ensure optimal safety, health protection, and sustainability as we make each and every single face mask,' said the top executive of the enterprise. "We are fully aware that this merchandise is directly associated with human well-being and essential front-line defence from viral infection. Our high-quality materials are either sourced locally or imported directly from South Korea and India. We are committed to a production line completely free of poor-quality Chinese materials."
Dr. Seven currently operates 20 production lines, all going full throttle to fill export orders that keep coming in. Workers are labouring at full capacity at the two factories totalling 70,000 square metres in area.
The company is fully accountable for every single piece of product manufactured with a transparent return and compensation policy in case of any losses incurred from faulty or disqualified products.
Source: Vietnam News